TyVest
[ Personal Project ]
---
Recycled layer for fancy hütte dinners and bear fights.

A few months ago, I had a company project where a big team had to wear Tyvek Overalls Expert® to scrub clay around. At the end of the three days, I managed to collect several overalls that were almost new, aiming to save a non-woven fabric that is waterproof, breathable, tear resistant, ultralight, and acid resistant. Basically makes you invincible.

So I decided to recycle some of them to sew this vest to protect myself during my Slovenian trip against the dangerous bear's venom while keeping a cool vibe in the mountains hütte.

---
Editorial piece created for Robida ISSUE 8 around the theme of
Island.
The story is reported as a lost diary of a castaway starting, along with the visual component, from the island as a simple geographical subject, later expanding its substance and meaning.
"
This is a story: true or imaginary, it is not for me to tell you. It is an ambivalent story, because it speaks of places and spaces, of life and death, of islands and the sea, of acceptance and resignation. You can choose whichever version you prefer. You can read it as a shipwreck or as a landing; as a loss or as a finding; looking at the sea or looking at the island.
"
An attempt to create a fictitious documentation of an event that did not really happen, to reinforce its reliability and confuse the reader between the verisimilitude of the narrated facts and the actual significance of the island as a place.
Robida
is a multilingual cultural magazine. It is published yearly by the association Robida which is based in Topolò, a village of twenty inhabitants on the border between Italy and Slovenia. The magazine explores different topics – such as abandonment, silence, the relation between domesticity and wildness etc. – which are connected to the place where the magazine comes to life, namely Topolò. The seventh issue, the biggest and most complex till now, reflects on the forest which is explored through essays, photography, art projects, academic texts, interviews, personal stories and with a balance between the poetic and the scientific gaze.
Text: Francesca Cassi
Visuals: Alessandro Simone
Final Layout: Francesca Lucchita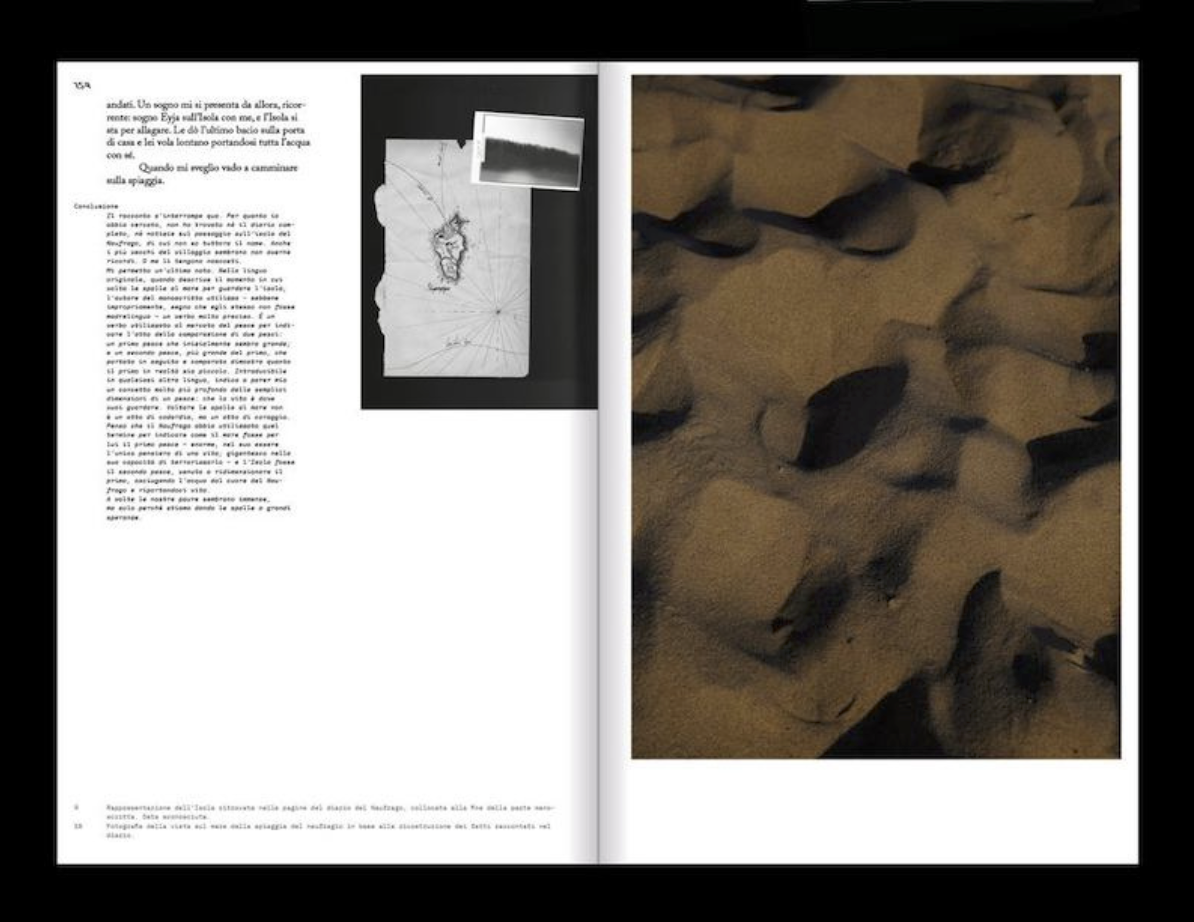 It is Slowly Snowing
[ Personal Project ]
---

On majestic and unearthly idyllic peaks, men built permanent infrastructure, marking indelibly the entire surrounding. The culture changed from something scientific and elite activity to a consumer good experience.

An Anthropocene era with the goal of a site of recreation.
But what does it mean to move around in space?
Is it strictly connected to our ego of leaving a mark and dominant?

"It's Slowly Snowing" tries to reflect on these questions through just the essentials for a light and fast documentation that aesthetically recalls a vintage past in contrast to the progress and innovation of split boards in a matter of independence and freedom.

The imprecise and stolen frame does not want to compose and direct the athletic gesture but simply the real documentation of happiness and carefreeness. The lightheartedness and the curiosity to explore the neighborhood with your own times, decisions, and spaces.

Moving with a slow movement, figures are melting with landscape and not being seen. Try to leave only short temporary tracks and not long-lasting marks in the landscape. Scouting unmarked area.
Tracking lines by digital and paper map exploration in a grid of railways. Hunt for the falling of energy sliding on the surface in a pure duality of machines: human-body and train engine.
Is that the future of human recreation and bound with nature?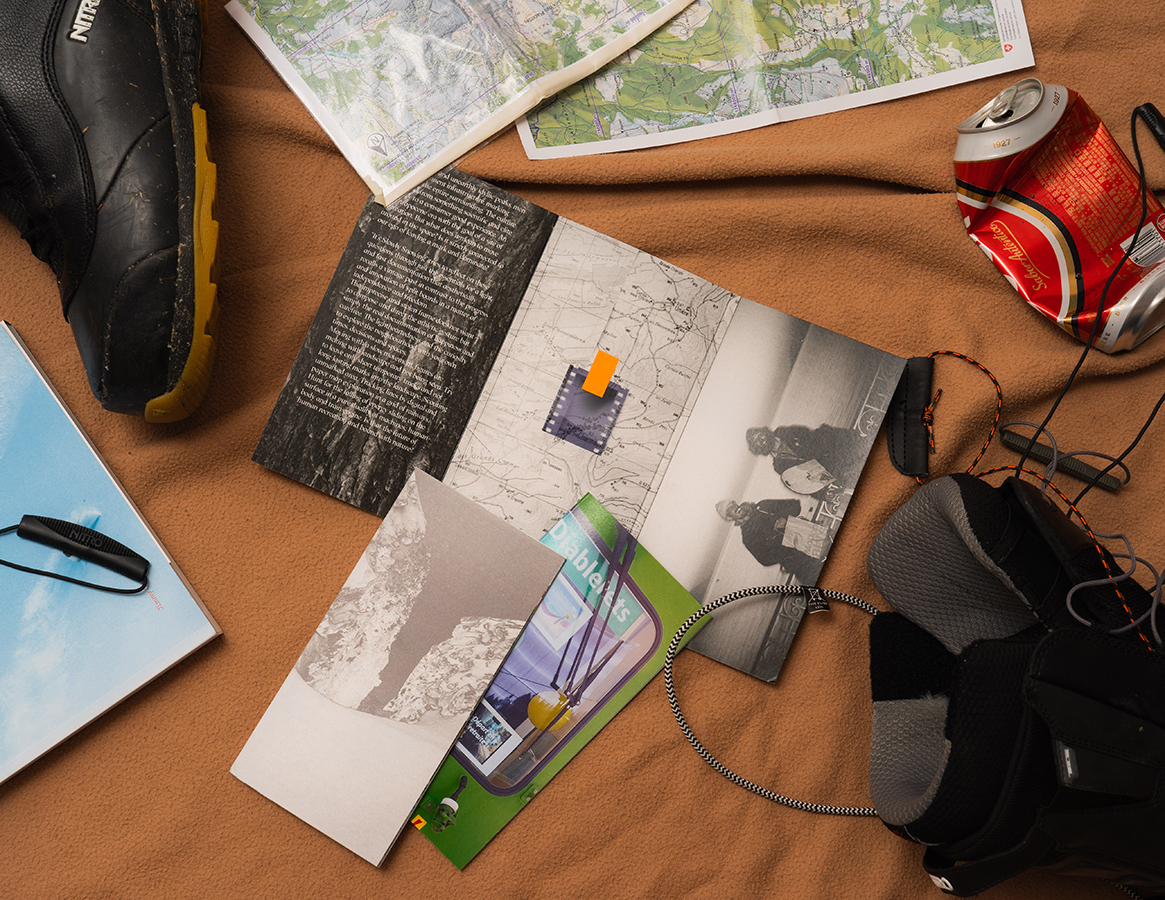 Directed: Alessandro Simone
Type: Mazius Display by Alberto Casagrande
Photos: Maxwell Ashford & Alessandro Simone
Sticker Design: Nicolas Bernklau
Thanks to: Laura Tota, Brynjar Sigurðarson, Cedric Widmer, Giulia Simone

Self Printed in ECAL 2021

Studio Dentistico Simone
[ Studio Dentistico Dr. Simone ]
---
Website designed for the 60 years anniversary of the
Studio Dentistico Simone
.
Combining medical informations with family history fighting the consumption approach to dental health market.
I lost my camera
[ Personal Project ]
---
Losing a camera is never an easy occurrence to process. Navigating from the first feeling of complete loss to accepting the deleted representation of memory. Being forced to shift our habits of how we translate actions.

I collected frames of events constantly through the impression of nostalgic images, converting objective to subjective and creating infinite possible parallelism and realities.
How is it possible to create and save these memories without my old companion? Looking for another tool to remember and enhance my feelings, creating an alternative timeline to back up through 3D and CGI.
The action of translation from event to memory is not done during its performance but just after its end. A few hours later, as also to weeks. Losing details and creating others by the combination of scientific data and wishes.

Fragments of dreams and past mix together to extract the fragility of remembering and how we deform experiences every time we go back to them as part of a continuous mutation.
A contemporary logbook from swiss alps adventures.